A while back, a member here at HPT was interested in a Glock 27 pistol I had for sale. A couple of
phone calls were made, a deal was struck and one of the things I ended up with (besides a pretty good friend!!)
was a leather holster. Not just any holster you see...
It's a beautiful, custom, hand made, just for my beloved JHP, leather holster.
A couple of other things make this particular holster extra special for me. One is, that this is literally the
1st real actual pistol holster I ever owned. I mean, I had a belt and holster set up when I was 8 years old
for my cap gun... But I quit using that a while ago!!
The 2nd thing, is that a friend made this for me. Beside it being, IMHO, one of the best made and most
beautiful holsters I've ever seen... Something hand-made - from a friend here at HPT - Well, that pretty well
sends the "sentimental value" right off the charts!!
And you guys know me... when I get something I keep it... forever!!
And, by the way, I'll bet most of you figured out Scott Tollefson (srtolly) is the craftsman that made this holster for me.
He put up a post on that one he made... I thought that was gonna be the one!! But he wasn't happy with it and made
another! Scott, I hope you don't mind my "outing" your name here... But some credit is due.
I also didn't want to just write about it without trying it out. The SIL and I are going to do some coyote hunting this
fall/winter, and sometimes those sneaky dogs get real close - before you even notice them. I wanted to have my JHP
strapped on to my hip, because they can get so close you can't even get them in the scope! A 45 is right handy to have
then!! Plus, if I ever blast a coyote with my Hi-Point, I'll torment the SIL with that for life...
And one last thing - well, I've been quite the flibbo for quite some time... I gave up on the blood pressure spiking leather
belt to hold up my pants and have worn industrial strength suspenders for... Geez... the last 15+ years?? So, I had to
wait until I got to the big city to buy a 4-1/2 foot long belt to use with my new holster.
And for the fat guy record, a belt and suspenders together work pretty damn good to hold you pants up when you have
your big 'ol loaded JHP in your holster!!
Yesterday, after work I put my new holster and belt on. Holstered up the JHP and open carried for the very 1st time out to the
shooting range. Right after I got there, the SIL showed up to hang out a bit and visit. Finally, he notices... "What'cha got
there?" he says. "A custom hand made holster for my JHP." Told him I intended to pack the 45 when we go coyote hunting.
I pulled my (unloaded) JHP out to show him the holster, which he was quite impressed with. And then he just HAD to say something
about my "space-alien" JHP. I spun that big 'ol JHP on my finger and shoved it in the holster better than Clint Eastwood
himself could of done!! His eyes get big - "You're getting to be pretty good with that thing!!" he says!!
It was more luck
than anything... But it sure happened at just the right time!!
All right, enough talk...
Lets have a look at this baby!!
The box it came in: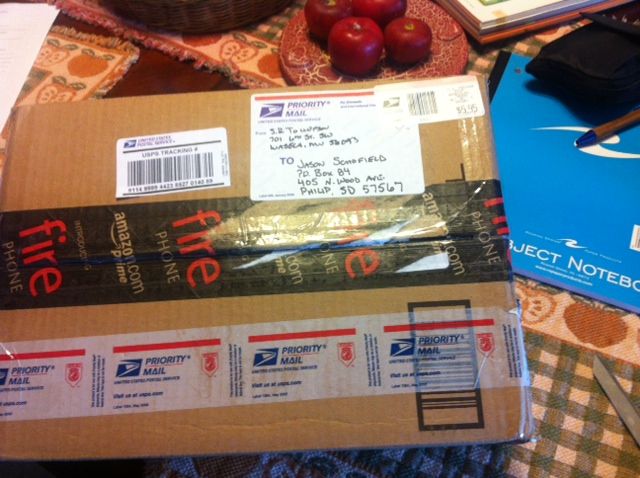 I'm guessing somebody got a new cell phone in the tolly household!!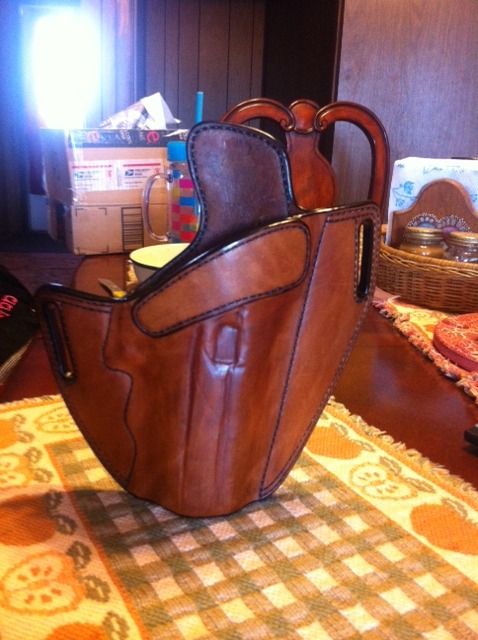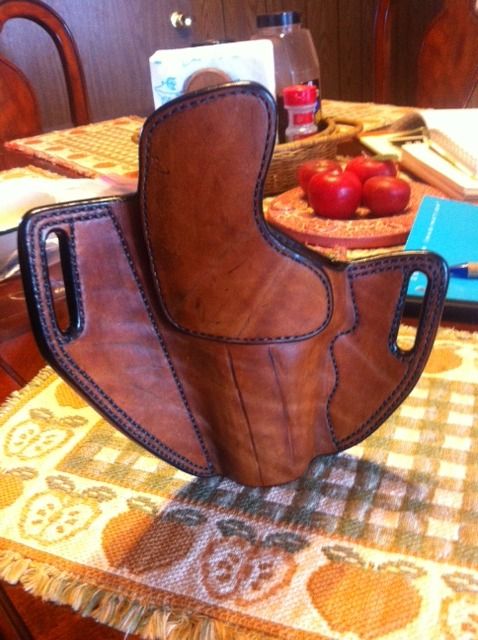 I just thought the color looked SO good!! With the black around the edges and stitching so even and nice...
I couldn't be that precise if my life depended on it!!
And the edges are as smooth as can be... I didn't really know what to expect... But damn, this thing is NICE!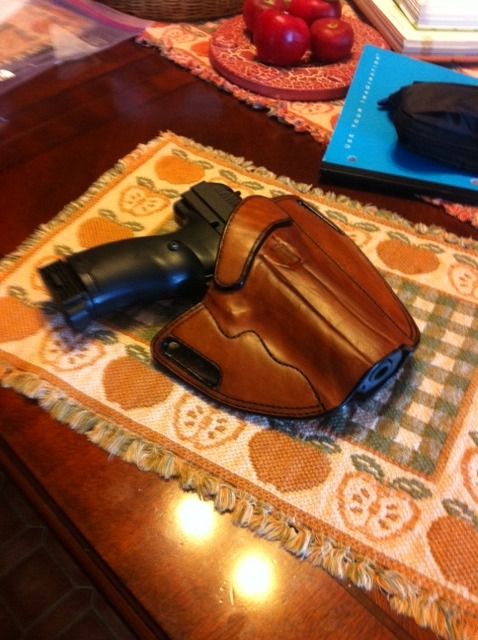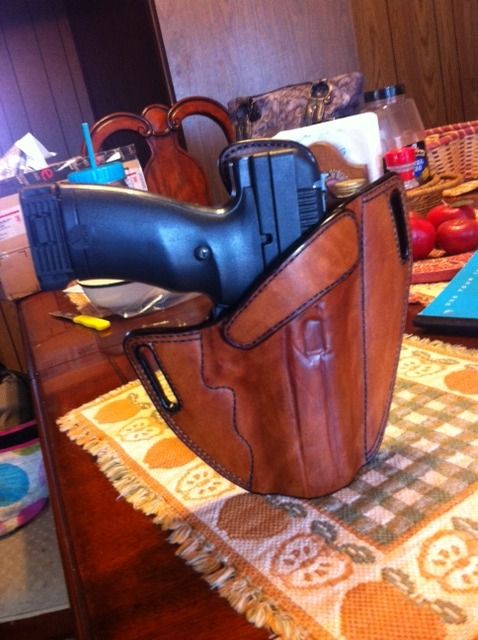 Look at that sucker... Like it was MADE for a JHP!!
Of course, as a newbie holster owner, I thought that taller piece of leather on the back side of the gun was to keep it
from rubbing the flab. I was quite surprised how tightly it gripped and held on to my JHP!!
Please remember, I ain't too smart to start with - or experienced with a holster either...
Well, after wearing it, and holstering the gun - I grabbed the grip and... well that pistol won't come out of there!!
This is really gonna screw up my fast draw here... Well, it's good that it's tight. I won't fall out and if somebody tries to take
it, I am sure the holster, belt and pants are going with it!!
Oh... DUH!!! That taller piece of leather has another purpose!!
That tall piece of leather does keep the gun from rubbing, BUT when I pull the gun out of the
holster, I grab the gun, push on that taller piece of leather with my thumb, and the JHP comes right out!!
It's almost like Scott knew what he was doing and made it that way on purpose...
Maybe you should have sent me some instructions, Scott!!
I'll bet hobbles and Scott a either shaking their heads - of laughing their asses off... or both!!
My 1st holster selfie...
I think the wife actually kinda - (hate to use the words "got off on it") - but, well thought I was really something
while wearing the holster... She made me pose for several pictures!!
I'm not exactly a Hooters model here, but I'm at peace with my appearance...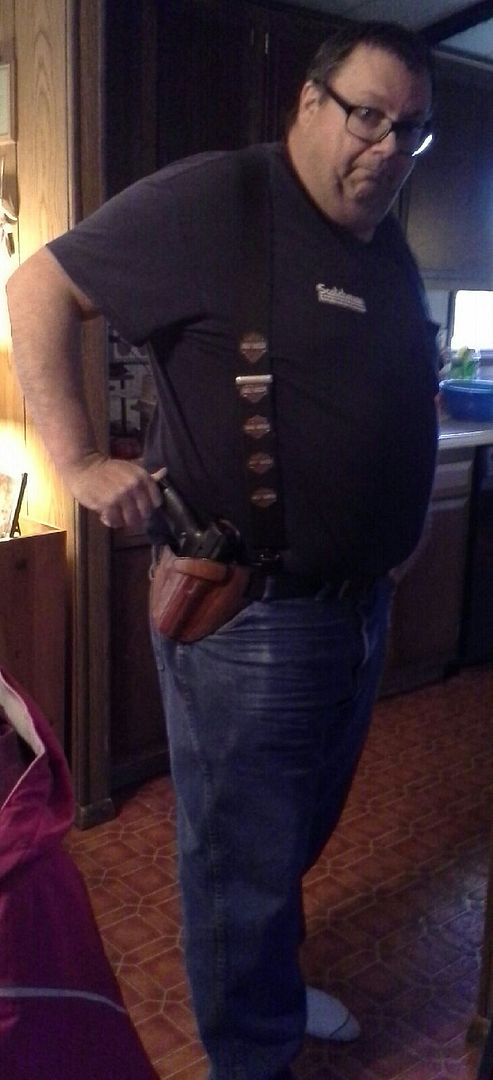 In the above picture - I look like something just bit me on the ass...
Or maybe I'm thinking... "You talkin' to me, punk??"
There we go!! A Happy Holster wearing, soon to get lucky gun dealer!!
This was after I got back from the range - and I gotta admit - I just enjoyed the hell out of wearing a holster!!
It was a great 1st time trying it out experience!! Made the SIL a little jealous, posed for some pictures, learned a
little about how it's supposed to work and ended up getting lucky!!
I had no idea a holster could do all that!! (No, I didn't wear it for THAT... But I would have if she asked me to...)
So, a higantic Thank You to Scott!! I love this holster and you can bet I'll be keeping it forever. I feel like I owe him a lot more
than what he got for it - I don't even know what something like this is worth... I might have to send a C9 his way, just to make us even!!
I mean, it's gotta take hours to make a holster like this... And I'm just as happy as I can be with it.